Our Mission
We, the Falcon Ridge Community, will work together for ALL students to achieve academic and social emotional growth!
Together we are more.
---
Please follow us on Instagram (falconridgejsd) or on Facebook (@falconridgejsd) for the most current information and activities!
2022-2023 SCHOOL YEAR
January 12, 2023
January/February Events:
January 16: Martin Luther King Day- no school
January 17: Grade transmittal day-no school
January 23-27: White Ribbon Week
January 25: Job Fair
January 26: Parent Digital safety night 6-7
Jan 30-Feb 3: Dojo store
February 2: PTA Classic Skate Night
February 1-28: Kindness Month
__________________________________________
January 11, 2023
Explore endless opportunities in education at the Jordan Job Fair on Wednesday, Jan. 25 from 6 – 8 p.m. at Oquirrh Hills Middle.
Find out about openings for school bus drivers, classroom assistants, custodians, cafeteria workers, substitute teachers and more. A representative from all schools and departments throughout the district with open positions for this year and the 2023-24 school year will be in attendance.
___________________________________________
January 6, 2023
Parents and Guardians,
Join us on Thursday, January 26, 2023 from 6:00-7:00 for an evening of learning! We will have Sargent Jordan Smith of the West Jordan Police department at Falcon Ridge to share social media and internet safety tips for parents. Learn about the different apps and games that our children are using and learn how to keep our children safe.
We will have child care available for those who need it. We look forward to seeing you!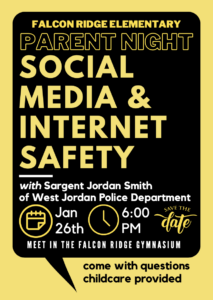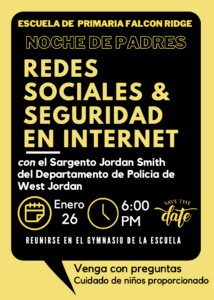 ___________________________________________________
December 20, 2022
Just a reminder that tomorrow, Wednesday 12/21 is a late start/early out from 9:00-1:00. Kinder AM and PM will be coming from 9:00-10:50 so they can be a part of the sing along. There will be no PM Kindergarten. The sing along is for students only.
Winter Recess begins Thursday, 12/22 through Monday, 1/2. School resumes Tuesday, 1/3.
Happy Holidays!!
Solo un recordatorio de que mañana, miércoles 21/12, es un comienzo tarde/salida temprano de 9:00 a 1:00. Kinder AM y PM vendrán de 9:00 a 10:50 para que puedan ser parte del canto. No habrá jardín de infantes PM. El canto es solo para estudiantes.
El receso de invierno comienza el jueves 22/12 hasta el lunes 1/2. La escuela se reanuda el martes, 1/3.
¡¡Felices vacaciones!!
_________________________________________
December 14, 2022
Registration for Kindergarten for the 2023-2024 school year is beginning now. If you (or a neighbor) will have a child in kindergarten, please complete the attached form. It can be dropped off at the school or emailed to nancy.bateson@jordandistrict.org.
________________________________________
December 6, 2022
CANDY CANE LANE:
A Children's Holiday Store
Friday 12/9/22 through Wednesday 12/14/22
Our 6th Annual Children's Holiday Store is almost ready to open! We are excited to offer this event for the students at Falcon Ridge Elementary again this year.  Items are priced between $0.25 and $13 (with most items priced under $6), so there will surely be something available for any budget.  Candy Cane Lane is not a fundraiser for the school or the PTA.  All products will be sold at cost; this is a service provided for our children by the PTA.  This shopping experience is a wonderful opportunity for our children to think about others during the holiday season by purchasing small gifts for the people they love.  As always, participation in this PTA sponsored event is completely optional.
Candy Cane Lane will be open for our Jr. Falcons from Friday, December 9th through Wednesday, December 14th.  Each class will take a turn to shop sometime between Friday and Wednesday, during the school day.  Please see the attached Holiday Store Schedule to see what day your student(s) will be shopping.  Please note, the store will not be open to the public or outside of school hours.
Please see the 2nd attachment (Holiday Store Flyer) for information on purchasing a gift card voucher for your student to use at the store.  This will alleviate the need to send cash to school with your student.  Please understand that the volunteers will help your student spend the entire amount of the voucher as the cash back (change) feature will not be available.
The types of products offered at the store can be viewed at:  Gift Line Preview 2020 - Holiday Gift Shop Fun Services Colorado
Lastly, we will need many volunteers to make this event a success!  We need at least 5 volunteers in each of the following time slots:
Friday 12/9:  9:30 a.m. to 11:30 a.m.
Monday 12/12:  9:00 a.m. to 11:30 a.m.
Monday 12/12:  1:00 p.m. to 3:00 p.m.
Tuesday 12/13:  9:00 a.m. to 11:30 a.m.
Tuesday 12/13:  1:00 p.m. to 3:00 p.m.
Wednesday 12/14:  9:00 a.m. to 11:30 a.m.
Wednesday 12/14:  1:00 p.m. to 2:00 p.m.
Please contact Karen Beebe via email (karenrbeebe@msn.com) or text (801-419-3271) to volunteer.  This is such a fun and fulfilling event to witness.  Please reach out today to help make this a great experience for the students at Falcon Ridge Elementary!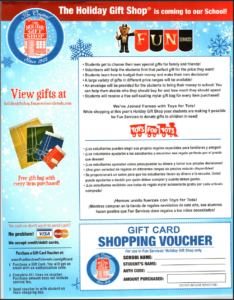 _____________________________________
November 29, 2022
Upcoming Events:
Dec. 5 PTA Meeting 1:30
Dec. 9-14 Holiday store
Dec. 15 Student of the Month Assembly 2:15
Dec. 20 4th grade Festival of Trees 9-11
Dec. 21 Early out
Dec. 22- Jan 2 Winter break
Jan. 6 Choir begins
Jan. 9 PTA meeting 1:30
Jan. 16 MLK day - no school
Jan. 17 Grade transmittal day - no school
Jan. 19 Student of the Month Assembly 2:15
Jan. 23-27 White Ribbon Week - Online and Digital Safety Week
Jan. 26 Parent Digital Safety Night 6:00-7:00
Feb. 2 PTA Classic Skating Night 5:00-8:00
____________________________________________
November 28, 2022
Come and work with an amazing crew! We are in need of a playground aide. Please apply here:
https://www.applitrack.com/jordandistrict/onlineapp/_application.aspx?posJobCodes=5811&posFirstChoice=ESP%20-%20Instructional%20Assistant&posSpecialty=Classroom%20Assistant%20I%20PT
_________________________________________
September 27, 2022
Upcoming Events:
Thursday, Sept. 29 Cultural Family Night 6:00-8:00
Monday, Oct. 3 Student Council Conference 9:00-2:00
Tuesday, Oct. 4 Picture Day
Tuesday, Oct. 4 School Community Council Meeting 5:30
Oct. 3-6 Parent Teacher Conferences
Thursday, Oct. 6 Early out schedule
Friday, Oct. 7 No school
Oct. 11-12 Boo to the Flu 3:30-7:00
Thursday, Oct. 20 Early out schedule
Friday, Oct. 21 Grade transmittal day--No school
Oct. 24-28 Fall recess
Monday, Oct. 31 PTA Halloween Carnival K-6
_______________________________________________________
September 15, 2022
Beginning Friday, Sept. 26, students in grades 2-6 can join us for an after school Coding Club. Learn to code and create apps and games on Fridays from 1:15-2:15.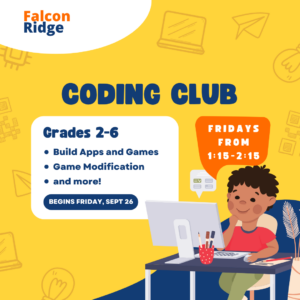 Ballroom Dance is back! Students in grades 2-6 are welcome to come and learn the Merengue, Cha Cha, and a disco line dance. There will be a small performance with the Copper Hills Stars. The Fall session begins Thursday, Sept. 22 from 3:15-4:00.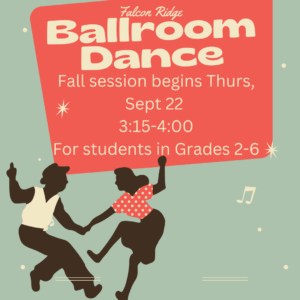 September 11, 2022
ATTENDANCE MATTERS! 
Did you know that even if your student is only a few minutes tardy to school it can add up to missing instructional time that could affect your child's progress with reading and math? Even 5 minutes a day can add up to 900 minutes or 15 hours of lost instructional time in one school year. 
Arriving On Time for School and Class: 
Makes sure that your child doesn't miss out on the important learning activities that happen early in the day when they are most alert. Early morning learning activity is often reading or writing and your child can lose so many opportunities to learn these critical life skills. 

Helps your child to learn about routines and commitment. 

Gives your child time to greet their friends before class and this can reduce the possibility of disruptions in the classroom. 

Class disruption can make your child feel uncomfortable and can upset other children. 

Arriving on time every day makes children feel good about themselves.
ACTIVITIES: 
Sept 12: PTA meeting 1:30
Sept 14: Leader of the Month assembly 2:15
Sept. 19: Vision screenings
                JSD Family Fun Fair 5:00-9:00
Sept. 22: School Community Council meeting 5:30
GOLDEN GATE KIDS: 
Our September Golden Gate pledge is I will smile at others with the virtue of RESPECT. 
I will respect Falcon Ridge's culture by maintaining school rules and procedures

I will listen to others

I will apologize when I am wrong or have injured others and fix what I can.

I will show gratitude

I will compliment others
OUR COMMUNITY:
We will be having our first Cultural Celebration Night for all Falcon Ridge students and their families.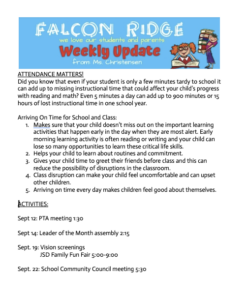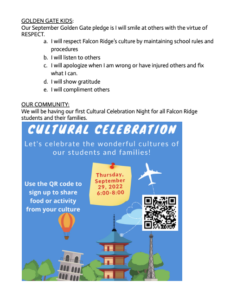 __________________________________________________
August 31, 2022
We are excited to celebrate the wonderful cultures of our students and families! Please join us for a night of celebration on Thursday, September 29, 2022 from 6:00-8:00pm. Use the QR code to sign up to share a food, drink, or activity from your culture!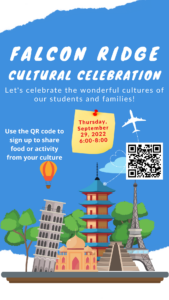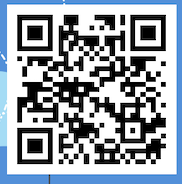 ________________________________________________________
August 26, 2022
We are excited to introduce our new Community Outreach Coordinator, Alida Flores. Please read her introduction letter and complete the attached survey.
Community Outreach Introduction
https://forms.gle/VZbo1TdAqhbWnCHd6
______________________________________________________
August 22, 2022
ATTENDANCE MATTERS! 
Showing up matters for R.E.A.L because it is an opportunity to:
Build Routines
Increase Engagement
Provide Access to resources
Support Learning
Routines: Daily attendance routines can reduce stress, increase your child's self-confidence and lay a foundation for good attendance in later grades.
Engagement:  Participation in school helps your child connect with other children and adults and get excited about learning.
Access to Resources:  Schools can give you access to meals, physical and mental health care and other supports, and fun enrichment activities (sports, clubs, music, afterschool and summer programs, etc.).
Learning:  Children learn best from hand-on activities and through meaningful interactions with their teacher and other students.
ACTIVITIES: 
August 26:  First day of kindergarten
Early out schedule 9:00-1:00
August 29: SEL surveys begin in grades 3-6
Sept. 5: Labor Day - No school
GOLDEN GATE KIDS:
Our September Golden Gate pledge is I will smile at others with the virtue of RESPECT.
I will respect Falcon Ridge's culture by maintaining school rules and procedures
I will listen to others
I will apologize when I am wrong or have injured others and fix what I can.
I will show gratitude
I will compliment others
OUR COMMUNITY:
Please remember to follow the Pick up/Drop off procedures. The west side is for drop off/pick up in your car only. Stay in your car, let your child in/out on the passenger side, and pull all the way forward. Please do not park in the faculty parking lot. The front of the school is parent parking. Please park your car and walk your child through the parking lot. Do not allow your children to walk through the dangerous parking lot by themselves. Finally, be patient and kind with other parents, students, and our teachers, who are there to help our students stay safe!
If you haven't yet, please join our Falcon Ridge PTA. Our PTA parents provide support for our students and faculty in so many ways and you can help!
Thank you for a wonderful start to our 2022-2023 school year! We are excited about all planned for this year!
¡LA ASISTENCIA IMPORTA!
Presentarse es importante para R.E.A.L porque es una oportunidad para:
Construir Routines
Aumento de laeficiencia
Proporcionar unccess a los recursos
Apoye la obtención de L
Rutinas: Las rutinas diarias de asistencia pueden reducir el estrés, aumentar la confianza en sí mismo de su hijo y sentar las bases para una buena asistencia en los grados posteriores.
Compromiso: La participación en la escuela ayuda a su hijo a conectarse con otros niños y adultos y a entusiasmarse con el aprendizaje.
Acceso a recursos: Las escuelas pueden darle acceso a comidas, atención de salud física y mental y otros apoyos, y actividades de enriquecimiento divertidas (deportes, clubes, música, programas extracurriculares y de verano, etc.).
Aprendizaje: Los niños aprenden mejor de las actividades prácticas y a través de interacciones significativas con su maestro y otros estudiantes.
ACTIVIDADES:
24 de agosto: Primer día de kindergarten
Horario de salida anticipada 9:00-1:00
29 de agosto: Las encuestas de SEL comienzan en los grados 3-6
5 de septiembre: Día del Trabajo - Sin escuela
GOLDEN GATE KIDS:
Nuestra promesa de septiembre de Golden Gate es que sonreiré a los demás con la virtud del RESPETO.
Respetaré la cultura de Falcon Ridge manteniendo las reglas y procedimientos escolares
Escucharé a los demás
Me disculparé cuando me equivoque o haya herido a otros y arreglaré lo que pueda.
Mostraré gratitud
Felicitaré a los demás
NUESTRA COMUNIDAD:
Por favor, recuerde seguir los procedimientos de recogida / entrega. El lado oeste es solo para dejar / recoger en su automóvil. Permanezca en su automóvil, deje que su hijo entre / salga del lado del pasajero y tire todo el camino hacia adelante. Por favor, no estacione en el estacionamiento de la facultad. El frente de la escuela es el estacionamiento para padres. Por favor, estacione su automóvil y lleve a su hijo a través del estacionamiento. No permita que sus hijos caminen solos por el peligroso estacionamiento. Finalmente, sea paciente y amable con otros padres, estudiantes y nuestros maestros, ¡que están allí para ayudar a nuestros estudiantes a mantenerse seguros!
Si aún no lo ha hecho, únase a nuestra PTA de Falcon Ridge. ¡Nuestros padres de la PTA brindan apoyo a nuestros estudiantes y profesores de muchas maneras y usted puede ayudar!
¡Gracias por un maravilloso comienzo de nuestro año escolar 2022-2023! ¡Estamos entusiasmados con todo lo planeado para este año!
___________________________________________________________
August 19, 2022
Here is the corrected lunch menu: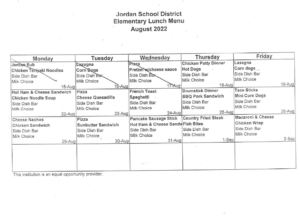 August 18, 2022
We are so excited to welcome your students back. We are looking forward to an amazing 2022-2023 school year!
As a reminder, our Friday schedule is 9:00-1:00. Breakfast is still served from 7:50-8:25. We will have our reading club from 8:00-8:45 Friday mornings and it is open to all students. Teachers will greet their classes at 8:55.
Thanks for a great start to the new school year!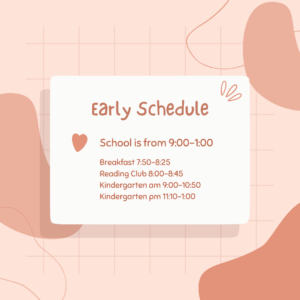 August Lunch Menu
____________________________________________________________
August 1, 2022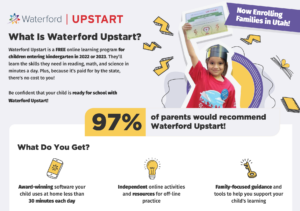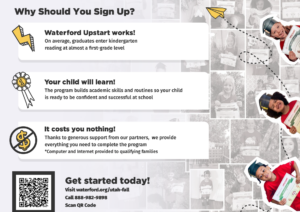 What is Waterford Upstart?
Waterford Upstart is an at-home early learning program for Utah children entering kindergarten in 2022 and 2023. Children learn foundational skills in reading, math, and more in as little as 15 minutes a day. Families receive resources to prepare their children for school, including:
Award-winning, adaptive software proven to boost reading outcomes and produce learning gains that last
Independent online activities and one-on-one support from qualified coaches
Ongoing guidance and tools to aid their child's learning
It's fully funded by the state of Utah, so the only investment families make is quality time with their kids.
____________________________________________________________________
July 29, 2022
PLEASE CLICK ON THE ATTACHED DOCUMENT FOR INFORMATION ON COMPLETING THE ONLINE REGISTRATION FOR THIS YEAR (EVEN IF YOU ARE NEW TO OUR SCHOOL) AND FOR INSTRUCTIONS TO SIGN UP FOR YOUR KINDERGARTNERS ASSESSMENT.
Online Registration Instructions
____________________________________________________________
July 21, 2022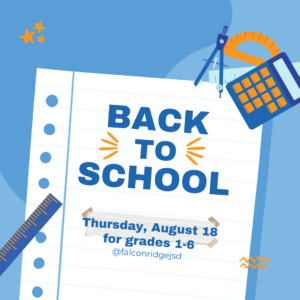 Our first day of the 2022-2023 school year is only a month away! Please go into Skyward and do your yearly registration for each child now.
_______________________________________________________________________
July 18, 2022