Our Mission
We, the Falcon Ridge Community, will work together for ALL students to achieve academic and social emotional growth!
Together we are more.
---
Please follow us on Instagram (falconridgejsd) or on Facebook (@falconridgejsd) for the most current information and activities!
2023-2024 SCHOOL YEAR
August 31, 2023
We are pleased to bring our Chess Club back this year! Join us on Wednesdays from 3:45-4:30 beginning Wednesday, September 20, 2023 in the media center. Novices and Experts are welcome to come to learn and grow in the game of chess.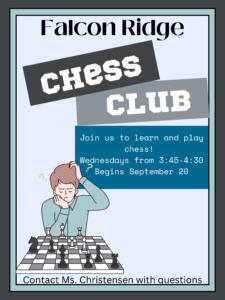 August 29, 2023
Our Friday breakfast schedule will be changing on Friday, September 1. Our new breakfast time will be 8:45-9:15. This is only for Fridays.
August 18, 2023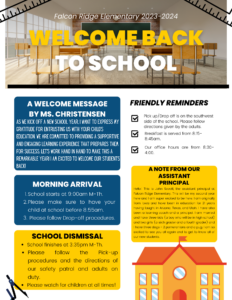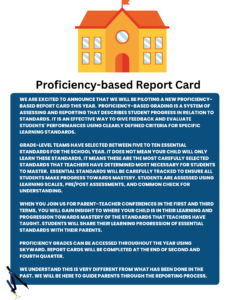 August 2, 2023
The beginning of school is rapidly approaching! Please click on the link for school information and for instructions on how to complete the yearly online registration (this includes new students who have just enrolled). This process is VERY IMPORTANT as it helps to make sure that all information entered is correct and up to date. There are also instructions for parents of Kindergartners on how to sign-up for an assessment time.
We look forward to an amazing year!
¡El comienzo de la escuela se acerca rápidamente! Haga clic en el enlace para obtener información sobre la escuela y para obtener instrucciones sobre cómo completar el registro anual en línea (esto incluye a los nuevos estudiantes que se acaban de inscribir). Este proceso es MUY IMPORTANTE ya que ayuda a asegurarse de que toda la información ingresada sea correcta y esté actualizada. También hay instrucciones para los padres de niños de jardín de infantes sobre cómo inscribirse para un tiempo de evaluación.
¡Esperamos un año increíble!